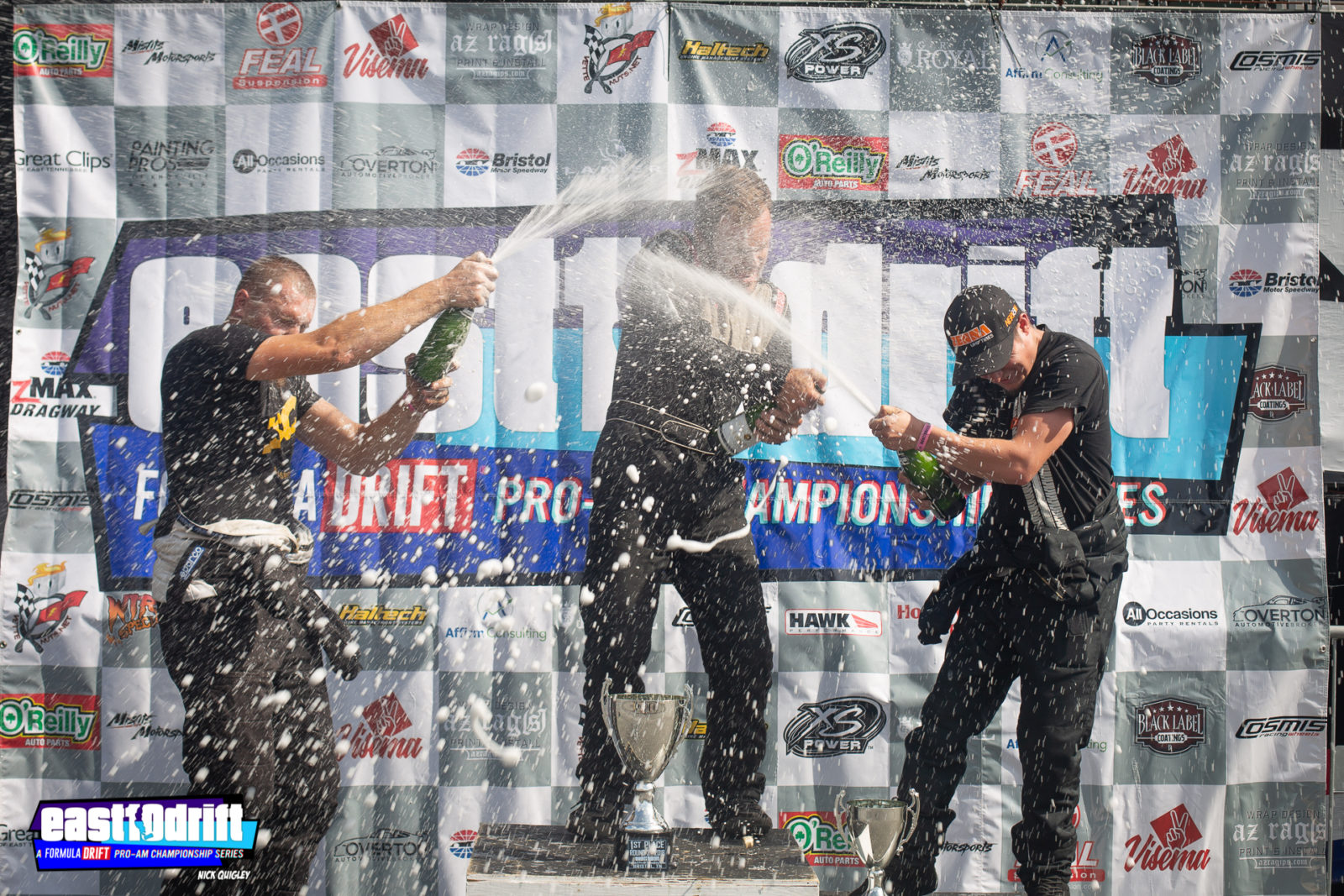 Coming off a successful inaugural round at ZMax Dragway in North Carolina, the East10 Pro-Am series took to the east parking lot of Bristol Motor Speedway for a two-day, two round event.
Round two took place on Saturday, with the third round and a complete layout change happening on Sunday. The initial course design mimicked that of the Texas round of Formula DRIFT, and nineteen drivers would do battle trying to earn that Pro 2 license.
There were, as expected, a few minor bumps and bangs, but the one that seemed to temporarily freeze time came mid-day during practice.
.
Zach Leffel slammed hard into the concrete barriers protecting a power pole after his steering got caught on his headers. Leffel was thankfully uninjured, but definitely out of contention for the rest of this round and the next.
Due to the odd number of drivers and the seeding method of qualifying, three drivers, Tyler Foley and his orange E36, Ethan Parnell in his black S14 and Abe Heath in his patriotic themed S13 battled in the first "round" to fill in the three empty spots in top sixteen.
Tyler Garlatz, fresh off a third place finish at round one, found himself the top qualifier at round two. He would go on to defeat Foley in the first top sixteen pairing.
Scotch McDonald got the win in his battle with Stephen Johnstone's Mustang.
Dmitriy Brutskiy and his Z4 would knock out Jake Elliot's S13 in the next pairing, inching the Z4 closer to the podium.
Round one winner and points leader going into round two, Stephen White bested Ethan Parnell in his rise to the top.
Michael Wallis and his purple and gold S14 met round two runner-up Justin Bauer in their match, ultimately resulting in Bauer getting the nod.
Venturing all the way from Quebec, Eric Brunet took his R34 a step closer to the finals with a win over Abe Heath.
Rounding out top sixteen was the battle between Bryan Broberg's S13 and Cory Talaska's E36, with Germany advancing against Japan to get the win.
Garlatz bested McDonald in the first bout of the great eight, as the S13 soldiered on.
Brutskiy also advanced with a win over Kyle Wood, pushing round one's top qualifying seed on to the final four.
Bauer slid past White on his way up the ranks, eliminating White's possibility of a repeat victory.
In the battle of alphanumerics between Brunet's R34 and Talaska's E36, the Nissan would take the win to conclude the great eight.
Garlatz kicked off the semifinals with a win over Brutskiy, sending the Z4 to battle it out for third.
Brunet would end up in that battle against Brutskiy after a loss against Bauer's S13.
I can't imagine there have been many R34 vs Z4 battles before, but the contest for third was as such. In the end, Brutskiy took home the bronze.
This left Garlatz and Bauer to duke it out for top honors, with Garlatz securing the top spot.
"This is just absolutely insane," Garlatz said. "If I could put it into words, it's just amazing, as cliche as that sounds."
With his car presenting no issues, Garlatz said the layout proved frustrating at first, but once he got comfortable, he was more favorable of the design.
"You go out and kick it sideways what you think is aggressively, then you fall short of the rear zone," he said of the first two clips. "By the end of the day, my foot didn't leave the floor for probably the first three-quarters of the course. Once you get used to it, it's the type of course that helps you progress as a driver."
Bauer, with his repeat second place performance, got to that point battling not only the competition but his own car. He wasn't able to achieve full lock without the steering binding up, but on a more positive note, a new Fluidyne radiator helped keep his engine temps low.
"Me and the car had battles hardcore throughout the day," he said. "I couldn't go full lock because it binds up horribly."
On a side note, Bauer, who was one of a handful of drivers producing huge clouds of smoke, said he was going through a set of rear tires after every pairing.
"It's so nice to finally have gotten to this point," Garlatz said of his victory. "We have no problem saying this, but it's a long road to get here with plenty of sleepless nights. I think we blew five engines in nine months trying to get to this point."
With a car he says is finally reliable, Garlatz had his sights set on another win.
"I'm always hungry out here," he said. "But I'm starving now."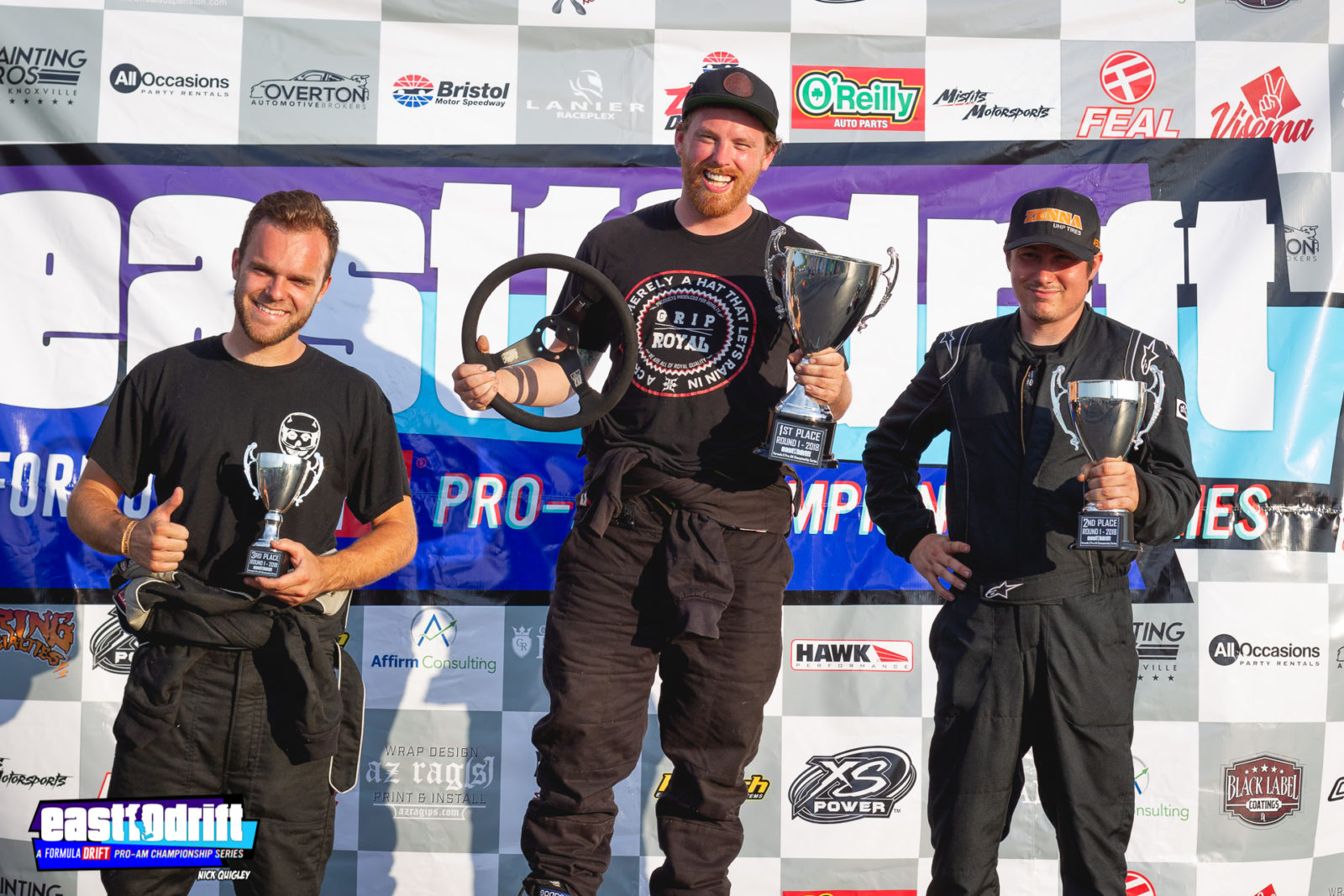 The newly formed East10 Drift Formula Drift pro-am championship series kicked off its inaugural season on June 2 at ZMax Dragway in Concord, North Carolina.
The four round series, spanning tracks between North Carolina, Tennessee and Georgia, will award the top three finishers of the season Pro 2 licenses to compete at that level of Formula Drift competition. In fact, course layouts are all designed around existing Formula Drift courses, with round one mimicking the iconic Streets of Long Beach course.
Louie Garza, head of East10 Drift operations, said the choice to move forward with this type of program means elevating the professionalism of the organization while retaining the mentality that these events are first and foremost about having fun.
"For the program itself, there's definitely some business mentality behind it, but we don't want to lose the aspect of having fun with why we love drifting," Garza said. "We'll never lose that character with our organization, but now that we're in this spot, at this level, we have to step it up a notch. There will be some more professionalism that you see out of East10 Drift, some more incentives for drivers and program to help drivers out to take each individual program up to that next level."
Instead of a traditional qualifying format, drivers are seeded based on their performance during practice, and there are no run groups as is common with other competition series. After a practice session and driver's meeting, a second practice session is held and is when seeding is determined. With the number of drivers at this round, eight got an automatic pass into the second round, while 16 drivers battled it out to earn the other eight spots to round out a top sixteen. The drivers will be re-seeded at each event.
Though the morning's festivities took place on a dry track, a sudden cloudburst soaked the track after seeding had taken place, prompting East10 staff to make a call allowing drivers to get some wet practice laps in in the event the wet conditions persisted through competition. Luckily, the track dried very rapidly and had no affect on the battles.
Dmitriy Brutskiy made some blistering passes in the not-so-comnmon Z4 platform, earning him the top seed going into comp. He would draw #17 seed Jeff Baird and his Mustang in the first pairing of top sixteen, taking the win in the process.
Justin Bauer, fresh off a win over Adam Rozek in the first round, found himself in a close battle against #8 seed Bryan Broberg, ultimately getting the nod to advance.
Joey Whitaker, in the sole G35, was knocked out by Ethan Parnell, who had defeated Barry Daly's Mark III Supra in the previous pairing.
Number five seed Cory Talaska and Bryan Schiraldi, who defeated Craig Lambert, squared off next with the E36 advancing.
Marc Rose moved his C5 past #4 seed Warren Allen to find his spot in the top eight.
Alex Lichliter's FR-S battled it out with Stephen White's S14, with White taking the next win.
In a battle of S13s between Tyler Garlatz and John "JP" Windham, the #3 ranked Garlatz moved on
Matt Lynch, the #6 seed rounded out the top sixteen bracket with a win over Jake Elliot's S13.
Bauer and Brutskiy were the first to square off in the top eight, with Bauer advancing on after Brutskiy spun on his follow run.
Talaska and Parnell were next up, with Talaska's BMW sending the black S14 home.
Contact between White and Rose damaged Rose's oil cooler, causing the C5 Vette to impersonate the Exxon-Valdez incident. Luckily, most of the oil was off course, and cleanup crews had the situation handled in about 20 minutes. With Rose unable to repair his car within the time limit of the competition time out, White would take the victory.
Rounding out the quarterfinals was the battle between Lynch and Garlatz, with Garlatz taking the win and advancing to the semifinals.
The first semi-final pairing was set between Bauer and Talaska, with Bauer getting the nod to advance to the finals.
White and Garlatz would do battle in the second half of the semifinals, with Garlatz ultimately falling to White.
This pitted Garlatz and Talaska in a battle for third place, a battle for position that was eliminated from Formula Drift a couple years ago.
Garlatz would secure the bronze, taking a giant step towards a goal he's been trying to achieve for years.
"I've been personally driving for this moment since I was 13," Garlatz said. "My dad took me out to FD Long Beach in 2009 and ever since then it's been my dream. To finally take that step in that direction and move forward to actually see that dream on the horizon, it's just absolutely insane to me. To get my foot in the door with such a great group of guys (my team), they've got my back and I've got theirs, and we just work so well together."
The final pairing came down to White and Bauer, who after an intense first round of battles, found themselves in a one-more-time call from the judges.
In the end, White got the win and etched his name into the East10 history books as the inaugural series champion.
"I've been drifting about five or six years and I've always been doing it for fun, and it just clicked last year that I felt it'd be even more fun to run comp so that's why we decided to jump in and go for it," Bauer said. " I'm glad East10 came up with a pro-am series."
His S13 hatch, sporting a 6.0 LQ4 with LS6 intake and T56 six-speed, was reliable throughout the competition, save for a slightly slipping clutch he said he'd have sorted out by round two.
"The event was a blast," Bauer added. "We're ready for rounds two and three already."
As for White, the victory came after almost two years of time away from driving.
"It feels good to be competing again," White said. "It's been about a year and a half since I wrecked it, so all the hard work and dedication paid off."
In his "off season," White's car has undergone a few changes. New intercooler piping, a tubed front end, FEAL coilovers and a Wisefab kit make up some of the enhancements, with Chris Burgunder of HOON Performance helping the car get dialed in.
As far as White's goals for the rest of the season, he said he'd like to pursue a Pro 2 license, if for no other reason than the opportunity to drive Road Atlanta.
"Right now I'm just competing to compete because I don't really make the money to go to Pro 2, but I do have a dream of maybe eventually charging the hill at Atlanta," White added. "I'm from Atlanta originally, it's just my dream track. If I get my Pro 2 license, I want to make at least one round of Pro 2."
Garza said it's taken some time to get to this level of events, but the end result was worth it.
"It's so awesome to be able to bring together all these friends and colleagues that we've known throughout these seven seasons and really put together an awesome first round," Garza said. "The road to put this together has been interesting. I can't say we've rushed it. We definitely have a well organized team to be able to take that next step up."
The second and third rounds will be held back to back at Bristol Dragway in Bristol, TN on July 28 and 29.
Drivers registration is open and Spectator tickets are on sale for Round 2 and Round 3.