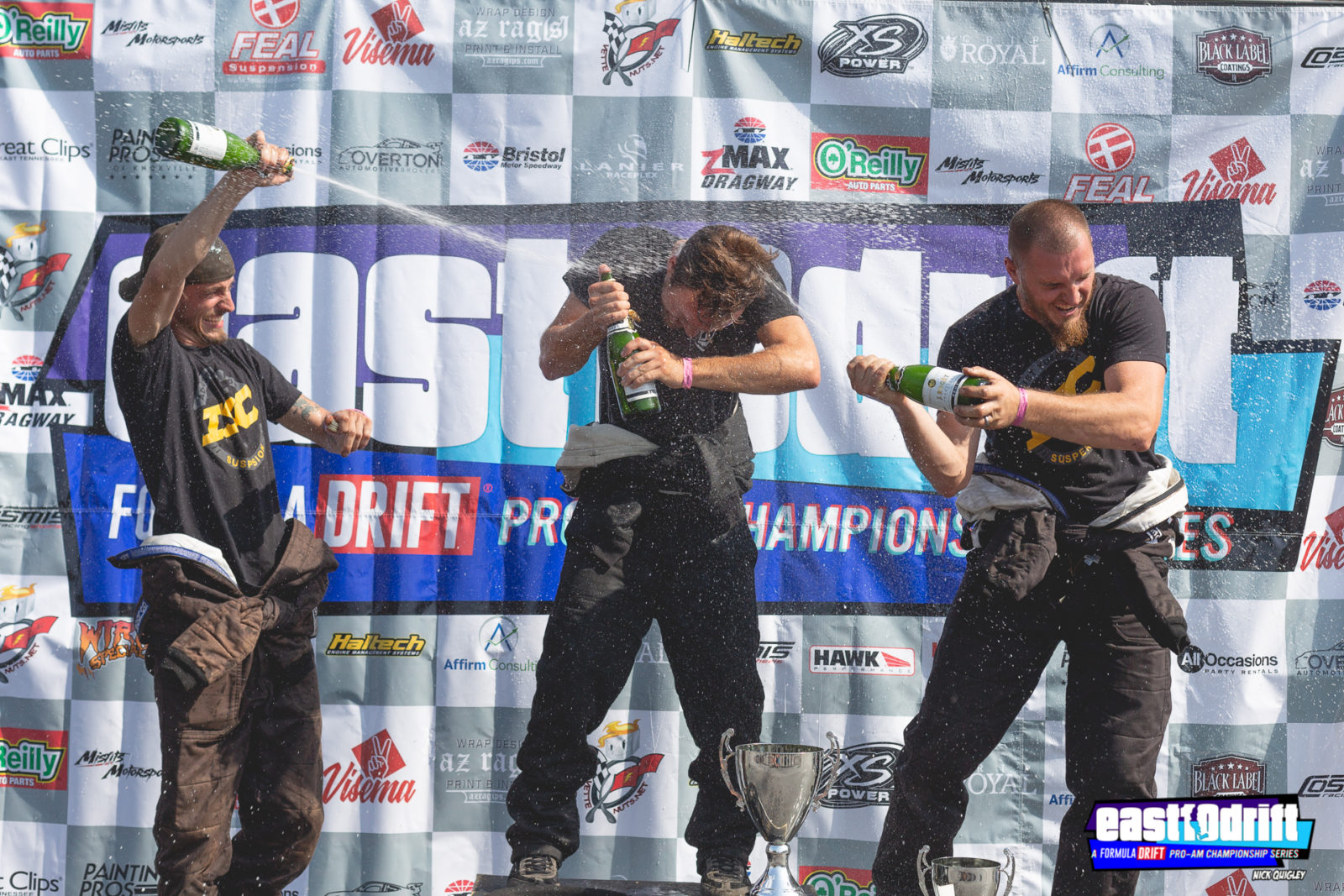 Less than twelve hours after the conclusion of round two, the East10 crew switched up the layouts and presented drivers with a new challenge for the third round of pro-am competition.
With such a short time frame, drivers and crews scrambled to make repairs and adjustments they might otherwise have weeks to do.
For those drivers not fixing their cars, there was plenty of time for ride-a-longs in the practice session.
As the day before, 19 drivers qualified to compete, with Jake Elliot, Abe Heath and Stephen Johnstone advancing in "top 32" to fill out the remainder of the top sixteen bracket.
Elliot would draw Michael Wallis' purple and gold S14 in the first top sixteen bout, with the S14 getting the nod.
Next up was Cory Talaska's E36 against the S14 of Ethan Parnell, as Talaska earned his spot in the great eight.
Round one winner Stephen White was aiming for the podium again, taking his first step with a win against Kyle Wood's grey S13.
Eric Brunet found himself against the winner from the day before, Tyler Garlatz, but his R34 just wasn't enough to take down the champ from the day before.
Round two's third place finisher Dmitriy Brutskiy took his Z4 to a win over Abe Heath on his quest to be on the podium once again.
Next up was Tyler Foley and his orange E36 against the teal S13 or Bryan Broberg, and Broberg would get the win.
Having finished second at rounds one and two, Justin Bauer took his S13 a step closer to a repeat with a win over Johnstone's Mustang.
Nabbing the last spot in the great eight was Ricky Adams, who was out for redemption after being knocked out in "top 32" on day one. He bested the RX-7 of David Campo to get the win.
Wallis and Talaska duked it out for a position in the final four, and that spot would ultimately go to Wallis.
Garlatz was on his way to a repeat victory with his win over White in the next pairing.
Brutskiy would knock out Broberg for his spot in the semis, leaving a much larger trail of smoke in the process.
Adams, in what a few of us thought resembled the M3 from Need For Speed: Most Wanted back in the day, knocked out Bauer to advance the BMW on.
Garlatz would take the win over Wallis in the first semi-final pairing, sending the latter to do battle against Adams.
Of course, Adams would get to that position from his battle of the BMWs with Brutskiy, which would ultimately send the former into the battle for third.
That battle would see Wallis and Adams duke it out for the bronze, with Wallis securing his first podium of the season.
"Honestly, I can't believe it with how much we went through this weekend," Wallis said, having wrecked the car the day before, then breaking a coilover before breaking an axle during the post-driver introductions burnout. "The guys from Team No Grip Life, Tyler Foley and Christian Nelson and everyone just jumped in to help and I wouldn't be here if it wasn't for all of my friends."
Wallis said the back to back event helped him stay focused on the task at hand.
"I like the two day event because I have fresh in my head where I was lacking the first day, and I can improve it on the second," he said. "I can't thank ISC Suspension for their awesome coilovers, Rick at Race Tech Services for the dogbox that takes as much pounding as I could throw at it."
In a knock down, drag-out final, Garlatz would find himself the champion once again.
"I can't believe we just one-two'd it, this is absolutely insane," he said. "I went into today thinking 'I don't care how today goes.' I may have gotten into that mindset a little too much and was having too much fun today, because I realized as soon as I got on track that these guys were not playing games. Yesterday was more than I could ask for and this is just beyond words."
For Brutskiy, the second place finish was an improvement on his third place the day before.
"I knew I had to shoot for the top," he said. "It didn't quite happen all the way, but I'm taking baby steps and I'm happy with it."
For those wondering, his Z4 was Michael Essa's that was used in Formula Drift from 2011-2012. Brutskiy was looking at building his own when he found out Essa's was for sale, albeit it had been converted for use as a road race car at the time.
"I e-mailed him and asked if the chassis was good for competition and if it was worth spending money on," he said. "He (Essa) said yes, that the car was fun and fast, and 'by the way, mine's for sale.'"
It was converted back to drift spec, Brustkiy purchased it, and Essa has been helping him out ever since.
Garlatz now has a commanding lead in points – 42 to Bauer's 27 and White's 23, but there's still a lot that happen at the final round to shake up the standings.
The series will conclude on September 29 at Lanier Raceplex in Georgia, where the 2018 champion will be crowned and three drivers will walk away with their Pro 2 licenses for 2019.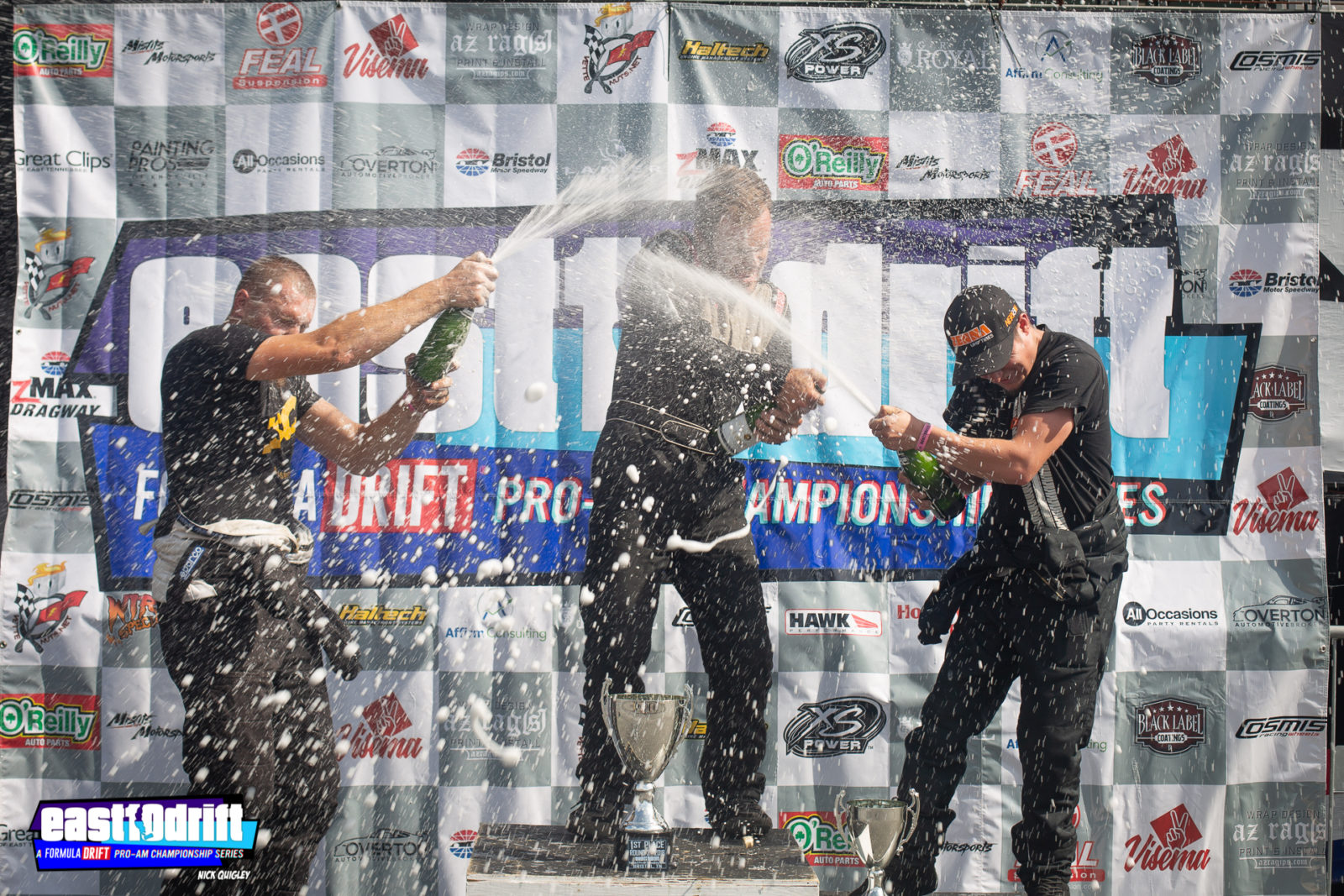 Coming off a successful inaugural round at ZMax Dragway in North Carolina, the East10 Pro-Am series took to the east parking lot of Bristol Motor Speedway for a two-day, two round event.
Round two took place on Saturday, with the third round and a complete layout change happening on Sunday. The initial course design mimicked that of the Texas round of Formula DRIFT, and nineteen drivers would do battle trying to earn that Pro 2 license.
There were, as expected, a few minor bumps and bangs, but the one that seemed to temporarily freeze time came mid-day during practice.
.
Zach Leffel slammed hard into the concrete barriers protecting a power pole after his steering got caught on his headers. Leffel was thankfully uninjured, but definitely out of contention for the rest of this round and the next.
Due to the odd number of drivers and the seeding method of qualifying, three drivers, Tyler Foley and his orange E36, Ethan Parnell in his black S14 and Abe Heath in his patriotic themed S13 battled in the first "round" to fill in the three empty spots in top sixteen.
Tyler Garlatz, fresh off a third place finish at round one, found himself the top qualifier at round two. He would go on to defeat Foley in the first top sixteen pairing.
Scotch McDonald got the win in his battle with Stephen Johnstone's Mustang.
Dmitriy Brutskiy and his Z4 would knock out Jake Elliot's S13 in the next pairing, inching the Z4 closer to the podium.
Round one winner and points leader going into round two, Stephen White bested Ethan Parnell in his rise to the top.
Michael Wallis and his purple and gold S14 met round two runner-up Justin Bauer in their match, ultimately resulting in Bauer getting the nod.
Venturing all the way from Quebec, Eric Brunet took his R34 a step closer to the finals with a win over Abe Heath.
Rounding out top sixteen was the battle between Bryan Broberg's S13 and Cory Talaska's E36, with Germany advancing against Japan to get the win.
Garlatz bested McDonald in the first bout of the great eight, as the S13 soldiered on.
Brutskiy also advanced with a win over Kyle Wood, pushing round one's top qualifying seed on to the final four.
Bauer slid past White on his way up the ranks, eliminating White's possibility of a repeat victory.
In the battle of alphanumerics between Brunet's R34 and Talaska's E36, the Nissan would take the win to conclude the great eight.
Garlatz kicked off the semifinals with a win over Brutskiy, sending the Z4 to battle it out for third.
Brunet would end up in that battle against Brutskiy after a loss against Bauer's S13.
I can't imagine there have been many R34 vs Z4 battles before, but the contest for third was as such. In the end, Brutskiy took home the bronze.
This left Garlatz and Bauer to duke it out for top honors, with Garlatz securing the top spot.
"This is just absolutely insane," Garlatz said. "If I could put it into words, it's just amazing, as cliche as that sounds."
With his car presenting no issues, Garlatz said the layout proved frustrating at first, but once he got comfortable, he was more favorable of the design.
"You go out and kick it sideways what you think is aggressively, then you fall short of the rear zone," he said of the first two clips. "By the end of the day, my foot didn't leave the floor for probably the first three-quarters of the course. Once you get used to it, it's the type of course that helps you progress as a driver."
Bauer, with his repeat second place performance, got to that point battling not only the competition but his own car. He wasn't able to achieve full lock without the steering binding up, but on a more positive note, a new Fluidyne radiator helped keep his engine temps low.
"Me and the car had battles hardcore throughout the day," he said. "I couldn't go full lock because it binds up horribly."
On a side note, Bauer, who was one of a handful of drivers producing huge clouds of smoke, said he was going through a set of rear tires after every pairing.
"It's so nice to finally have gotten to this point," Garlatz said of his victory. "We have no problem saying this, but it's a long road to get here with plenty of sleepless nights. I think we blew five engines in nine months trying to get to this point."
With a car he says is finally reliable, Garlatz had his sights set on another win.
"I'm always hungry out here," he said. "But I'm starving now."